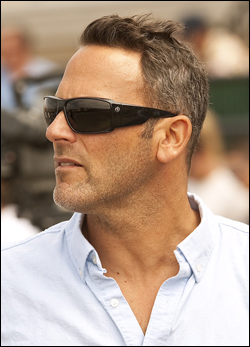 Bio:
Billy Koch was first introduced to the world of horse racing when he was six years old. In fact, his family claims he learned to read by reading the Racing Form. His grandfather, the late Hollywood legend Howard W. Koch (Airplane, Ghost), owned Telly's Pop with partner Telly Savalas (Kojak). Telly's Pop won the two-year-old California Triple Crown that year and once they wrapped the winner's circle flowers around Billy, he was hooked.
After graduating from Northwestern University, Billy put together partnerships with friends and became convinced sharing the experience of horse racing was more rewarding than owning alone. Named for a fictitious Indian Chief who was the centerpiece of his grandfather's bedtime stories, Billy founded Little Red Feather in 2002 with one horse, Spoonman.
Currently, the Little Red Feather Racing Club is the largest horse racing syndicate in California with over 300 active investors. The partnership's Grade I winning filly, Egg Drop, sold last year at the Keeneland September sale for a whopping $1.9M. Billy lives with his wife, Kathy and their three sons in Woodland Hills, CA.