Mirella McCoy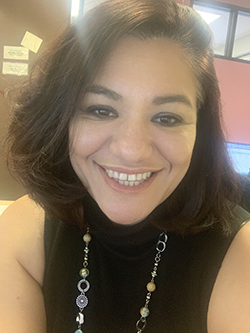 Bio:
Mirella McCoy has a powerful message of hope, healing, and personal power. Being a survivor of mental and sexual abuse, drug addiction and self-loathing she has worked hard to better her life by committing to loving herself and helping others find the love they need to heal. Mirella is driven to help others find their true calling in life and helping them in healing from trauma that has affected their lives. Mirella now uses her experiences in life and what she has learned in therapy to help others by engaging in conversation and not showing shame from her life experiences. She shares what she has struggled with openly to help others open up to her. She discusses ways that they can find their inner peace and teaches them that their life experiences do not need to dictate their lives but to better use these experiences to make them stronger.
She is an experienced Revenue Cycle Director that currently works for a not-for-profit organization helping the community with finding a safe place to go for their medical needs, without judgement or shame.
She realized, after the death of her mother that mentally she was only getting by and that she needed help to overcome the grief. Not only losing her mother unexpectedly but also dealing with the disappearance of her oldest son from a Heroin addiction she sought out therapy. Although going through therapy off and on her entire life she made a vow that for her children and marriage sake she would work hard to find that peace that she so desperately needed.  During these therapy sessions she found that many of her issues stemmed from the pain that was caused by the sexual and emotional abuse that she experience from the age of five to the age of thirteen when she finally came out and opened up about the abuse. Until that moment, she never realized that the extent of the trauma caused so many underlying issues.
Just like her husband, in Eric McCoy's book, she has seen that pain, failure and misery have become the stepping stones to her success. A hard worker, mother of 3 biological children and 2 step children she uses her experiences as a source of strength in her everyday life.