Victoria Greenwood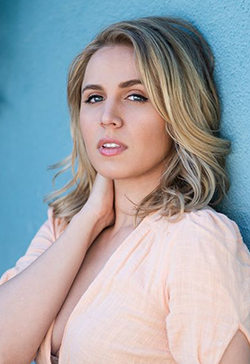 Bio:
Victoria Anne Greenwood was born in North Hollywood, California. She was raised by her Mother, Sheila Lussier (actress/model/documentarian) and Step Father Kenny Rogers Jr. (music producer/voice over artist). She is the middle child with two brothers, Keaton and Kacey who are both in a rock band "Raised On TV," that she has directed numerous music videos for along with illustrating their band merch.
Growing up in the industry, she has been trained by various people/styles. Notably so, by casting director, Geno Havens (The Jerk, More American Graffiti, etc...), and by Robert Carnegie of Playhouse West. As well as many improv classes.
Victoria found a passion for Art at a young age. In 1997, Victoria was honored by Mayor Bedizen of Nashville, Tennessee for her art work, which, was accepted into the exhibit Harmony. This love has translated over into a very passionate hobby of illustration. She joined the school choir in the third grade and she was also part of the theater team. Music played a huge role in her life as she grew up in and around it.  She plays banjo, which sparked her interest living in Nashville. Victoria was inducted into the International Thespians Society when she was just in middle school. While in High School at Calabasas High, she joined the comedy sports team and was a part of the theater department. She performed in various show cases and competitions, sparking her real interest in a set career, acting. In 2010 she was awarded Miss Encino USA and competed in Miss California USA. She attended Santa Monica College studying theater, with an emphasis on historical styles. From 2004-2006 she had a life altering experience, helping her Mother, as a production assistant, on a documentary on James Brown and his Wife, "Life on the Road with Mr. And Mrs. Brown." This cemented her path behind and in front of the camera.  She directs, writes, and actively acts on stage in her theater company Loft Ensemble.  In early 2020, she directed a play she wrote, "Birthday Wish," that was a huge success.  She continues to create her own content. She is represented by Sovereign Talent Group.