Paxton Dickerson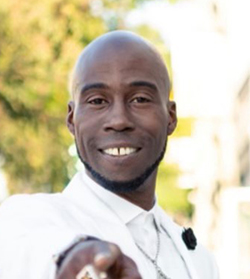 Bio:
A tour de force in the recovery community, Paxton Dickerson turns tough subject matter into inspirational journeys of hope and motivation. Through his raw sensibilities sparked by the profound wisdom of experience and spot-on comedic timing, he shares his own tumultuous path to recovery. With magnetic abilities to share, educate, and transform lives, he captivates and moves his diverse audiences to action. He talks. People listen. And with that, Mechanics of Recovery was born.
Like many, Paxton's tumble to the bottom forced him to face himself along with the inherent truths of his addiction before the climb to a fulfilling life could begin. The son of a professor and professional ballet dancer, one might expect his path was perfectly paved for success as a teacher and performer. Indeed it was, but not before stumbling through the deceptive allures of his disease. While in the throes of addiction, his fast and furious lifestyle throttled him into some colorful places like the entertainment industry where he hosted a TV rap show, and then ultimately led him into the illicit infamy of owning an escort service. That world gave him the golden ticket to ride high… all the time.
Although still unwilling to embrace a life of sobriety, the roots of character instilled by his parents tugged at him. So after being hand-selected to study on scholarship, Paxton attended the Woodrow Wilson School of Public and International Affairs' Diplomacy and Policy Program. Subsequently, he was licensed as a specialist on conflict resolution through the Rochester Task Force Against Violence in conjunction with the Rochester New York Police Department. The toils of living a double life eventually ensnared him when a concerned relative, upon learning of Paxton's dangerous and criminal activities, made the life-saving decision to send him to treatment for substance abuse. There, his blurry past began to crystalize and the epiphany arrived. He'd been showing up to life, as most high functioning addicts do, but clearly wasn't tuned in. Present for his father's final deathbed words, he remorsefully realized he hadn't heard a thing__ words he should have cherished and carried with him for the rest of his life.
Now in recovery since 2001, Paxton has dedicated 18 years to nurturing his own sobriety and paying it forward by sharing his experience, strength and hope with others stricken with the disease of addiction. Today, he advocates a successful design for living through the innovative and powerful principles that lie at the core of his company, Mechanics of Recovery. He is now a Certified Chemical Dependency Counselor (CCDC) and Registered Addiction Specialist (RAS), vocations he sought after previous experiences as a detox technician, drug and alcohol counselor, head clinician and eventually executive director of world-renowned Oasis Treatment Center. In addition to his accreditations, Paxton's accomplishments include the 2018 Orange County Mental Health Association Community Service Award, extensive work in Alcoholics Anonymous, and Freemasonry. As a steward of knowledge on addiction, Paxton embraces his true passion: sharing his wealth of information in a unique manner that ignites passion and action in others. 
Mechanics of Recovery is his brainchild, an innovative and successful multi-pronged approach to long-term freedom from addiction. For nearly 20 years, he has passionately engaged both professionals and young adults through psycho-educational seminars and lectures on over 100 powerful topics. Paxton's unique marriage of personal and clinical experiences makes him a credible and highly sought after authority on subjects such as relapse prevention, identification of distorted thinking coupled with maladaptive behaviors, spirituality, emotional healing and life skills.
Other facets of his work include inspirational and informative online videos, live motivational speaking engagements, one-on-one coaching sessions, mentoring services, and seasoned outside consulting for a multitude of addiction treatment centers in the Los Angeles area. Always looking for more ways to help those struggling with addiction, his eventual goal is to open a wellness institute dedicated to long-term recovery that encompasses all his services.
The infamy of Paxton Dickerson's drug addiction, dysfunction and criminal activity serves as a constant reminder that intent without action is futile. However, commitment, hard work, and a solid toolbox lead to the real golden ticket… a fulfilling life of happiness, joy, freedom and long-term recovery, a place where perfection resides in the acceptance of imperfection and effort.