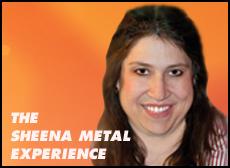 Monday, Tuesday, Wednesday, Thursday, Friday 5:00pm - 6:59pm
(PST)
The Sheena Metal Experience is definitely not your mother's talk radio show.  Combining today's hottest celebrity guests and tomorrow's most irreverent headline-makers, the show is raw, uncensored, and all-Sheena-all-the-time. Using her trademark cutting-edge observation, LA entertainment icon Sheena Metal rips the veil off the human sideshow, exposing Homo Sapiens at their most bizarre -- making you wonder how you ever got by without her. It's talk radio the way it was meant to be, "Sheena-Style": unscripted, unpredictable, a little horrifying, and a lot hysterical. It may be Sheena's show but it's definitely your experience.
Thursday 7:00pm - 7:59pm
(PST)
Drug Dealers, Murderers, Rapists, Child Pornographers, and White Collar criminals are are some of the major groups sentenced to Federal Prison. What's is it really like on the inside? On Crime & punishment, Larry Levine and Bruce Cameron offer the insiders' perspectives on these criminals and the crimes they commit. Levine and Cameron provide expert analysis from two opposing viewpoints: Levine as Ex-Con; Cameron as former Bureau of Prisons staff. You never know what will be "jumping off" on the show.
Thursday 8:00pm - 8:59pm
(PST)
The premise of The Writer's Block with Jim Christina and Bobbi Bell is to talk to writers of all ilks and get their thoughts, ideas, how they come up with their stories, lyrics, poems, etc. Dig into their heads in a looser format and certainly not scripted. All writers are welcome from novelists, non fiction, poets, musicians and historians, All are welcome.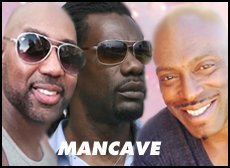 Thursday 7:00pm - 8:00pm
(PST)
Politics, Social, and Economic conjecture are familiar to all. We are inundated with mainstream and online media outlets which disseminate opinionated, professional analysis. The ManCave, with Lexington Steele, creates a platform for open debate and critical analysis of current events domestic and abroad, which have a demonstrative impact on the daily lives of American citizens and culture. 
Additionally, the sports world always provides ammunition for heated debate between psuedo-experts and "weekend warriors." Each sports fan trumpeting their opinion with no one to listen or anyone who cares. This is the show that embraces debate and gives each sports fan a chance to be heard. 
Hosted by Lex Steele, Andre LaVelle, and John E. Depth. This is where "sports talk," meets "real talk."  "The MANCAVE, with Lexington Steele." 
 
Thursday 8:00pm - 9:00pm
(PST)
Modern Male Radio with Jerod Zavistoski, through humor and metaphor will teach you how to become the new archetypal Male. A male with the freedom to dress, groom, and behave as removed of social constructs, and only adherent to the truth of what women seek. Taking the best qualities and attributes a man can possess from every social dynamic and sub-archetype and integrating their understanding with undeniable logic, this program will teach you how to become the one true archetype....The Modern Prince Charming.