Audrey Newmont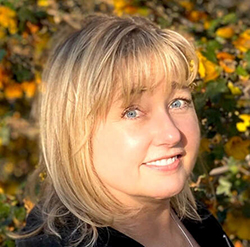 Bio:
Audrey is a certified, clinical Hypnotherapist and spiritual Practitioner for 17 years. Creating solutions for the challenges of life, in a way that is easy to understand is the gift that Audrey brings. She uses her experience, science of the mind and body, and Spirituality to bring a new and unique approach to the personal empowerment of her audience. She is the Co-Founder of Newmont Center for Balanced Living, a multi-modality healing center in Agoura Hills, California. Audrey obtained her Practitioner license through Agape International Spiritual Center, her Hypnotherapy degree through Hypnosis Motivational Institute, and she is a voracious reader and spends as much time as possible continuing her education with many diverse sources of information. She has worked with many addiction rehabs in the Malibu area, and as a compelling public speaker she is deeply passionate about facilitating empowering classes, groups, and workshops.
Audrey believes that life does not have to be so complicated, and it shouldn't have to take years to get your act together. Her soon to be released book, "The Mind Trip Game, Play Your Way to Conscious Thinking" presents the complicated information of the science of mind, body, and spirituality into a simple user-friendly game format with easy and effective transformational tools.
The Mind Trip Game is a unique approach to understanding how you have gotten to where you are, and more importantly, how to redesign your life to get to where you want to be. It is designed to change your unconscious thinking, to own your feelings in a new constructive approach, and create new habits that will build a much happier, healthier, abundant and love filled life.